by Rob Wassell
Over the years I have got to know the Beachy Head Lighthouse very well indeed and have had the opportunity to speak to former lighthouse keepers and collate rarely seen photos and fascinating facts about the 'new' lighthouse that stands at the base of Beachy Head. I have brought all of this information together to write The Story of the Belle Tout Lighthouse which you can order on-line through this website.
I helped do my bit to help Save the Stripes – 50% of the profit from The Story of the Beachy Head Lighthouse was donated to the campaign.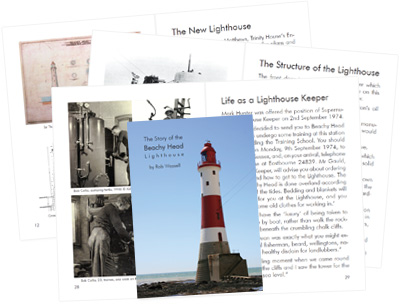 44 Pages, A5 format, Full Colour (including 56 Pictures Colour and B&W)
The Story of the Beachy Head Lighthouse Book – £7.95
Book with Rob Wassell's autograph – £8.95
Autographed by the author, Rob Wassell
Book with a personalised autograph by Rob Wassell – £9.95
Please state personalised message at checkout
---
If you're ordering from the UK
UK Second Class Postage £1.95
---
If you're ordering from Europe
European Postage £3.95
---
If you're ordering from Rest of the World
ROW Postage £4.95
---
Buy Online with PayPal
You don't need specifically need a PayPal account to buy online, after clicking the link just select to pay by credit or debit card. Its easy and its secure.
Please allow 14 days for delivery.
The book is also available from local visitor centres in and around Beachy Head.