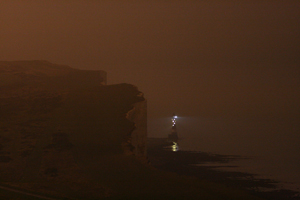 The Sussex Blast Cleaning crew are actually staying at the Beachy Head Lighthouse whilst they work on the stripes.
The lighthouse became automated on the 28th June 1982 which means people haven't stayed on the lighthouse for over 30 years. They are also sleeping in the very same curved bunks that the lighthouse keepers used to sleep in.
I felt that it was so symbolic that the lights inside of the lighthouse were shining once again that I had to capture it in a photo.
Using a number of long exposures and various settings I was able to capture some really good shots.
There are a couple more available on Flickr from my Save the Stripes set.